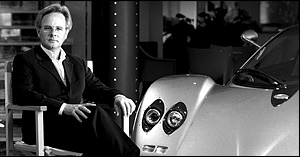 —Horacio Pagani's fondest dream - to build his own supercar — started to turn into reality in 1988
— when the draft drawings of the "C8 Project" were shown for the first time to Fangio. The car was to be named Fangio F1 after Fangio as a tribute to the great champion and showed the respect that Pagani felt for him.
In 1992, Pagani began to construct a prototype and the first model was tested in the Dallara wind tunnel in 1993. The positive results obtained marked the beginning of a long period of design and definition of the construction details.
At this point Fangio introduced Pagani to Mercedes, the company to which he was linked by his series of historic Formula 1 victories. Mercedes could foresee that the project was worthwhile and, in 1994, officially agreed to supply its powerful V12 engine.
After four more years of hard work, Pagani obtained type approval of the coup open version of the C8 Project and the first Zonda C12 was presented in the 1999 Geneva Motor Show.
Juan Manuel Fangio is no longer with us and Pagani has changed the name of his car to Zonda, the name of the wind that blows in the Andes, out of modesty and respect for the great man.
The car draws its inspiration from the Mercedes Group C Silver Arrows.
———